Thanks to the fast, modern and comfortable trains in Spain, traveling between destinations as Madrid, Barcelona, Valencia, and Seville has never been so enjoyable. From the magnificent mountains of Andalusia to the delicious cuisine of the Basque Country – the vibrant culture of Spain is best experienced during a train adventure!
The Spanish train operator is Renfe. Renfe runs the high-speed trains called AVE, as well as local trains throughout the country. Read more about Renfe here: www.renfe.com. To travel by train, as anywhere else, you need a valid ticket. Luckily for us, these are just a few clicks away. If you need help to get on and off the train because you are in a wheelchair you need to request a so-called 'H-seat'. This means you are placed in a designated area where you can stay seated in the comfort of your own chair.
How to arrange Renfe train tickets?
After getting so many requests and actually complaints about the online booking system for the AVE / Renfe train tickets in Spain, we decided to come up with a simple guide to explain how to book the train tickets yourself.

This guide includes the services offered to travelers with disabilities or reduced mobility and who are in need of assistance.
Additionally, we have included an explanation of the online procedure you have to follow.
Complete the necessary fields regarding your travel dates, and at the time of purchase make sure you r
equest the 'Atendo' service for High Speed-Long Distance, High Speed-Medium Distance, and Medium Conventional Distance trains.

You can choose from the following options:
Traveling in your own wheelchair and in need of an H-seat.

A person in a folding wheelchair traveling in a regular zone.
Having a hearing or visual disability, with or without guide/assistance dog.
A person with displacement difficulties.
If you need a transit wheelchair for the transfer at the station, you will need to request this by phone
003491 214 05 05
. The call center agents speak Spanish, however you can ask if they want to put you through to someone who speaks English. You can reach this service day and night. Please note that at the day of your trip, you have to be at the platform at least 30 minutes before departure and you are not allowed to bring more than 25 kilos of luggage. In the case of several simultaneous assistances, priority will be given according to the type of disability and their request.
Follow these steps to buy your Renfe tickets:
Step 1: Fill in your travel details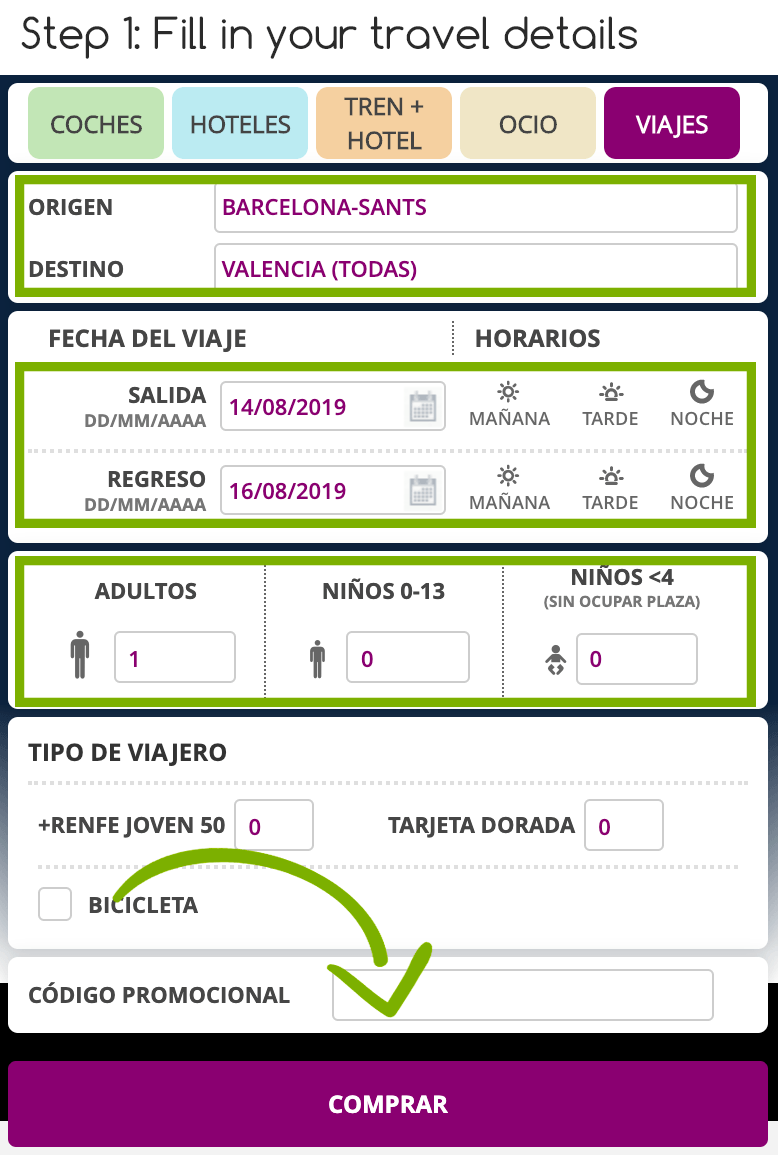 Step 2: Select your outward journey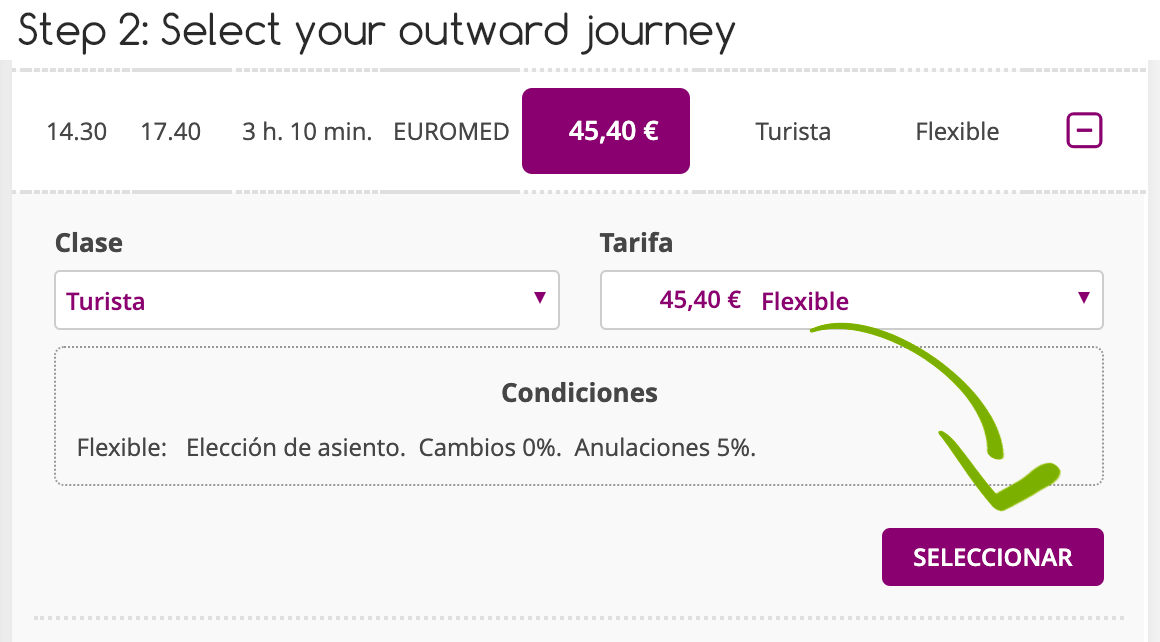 Step 3: Select your return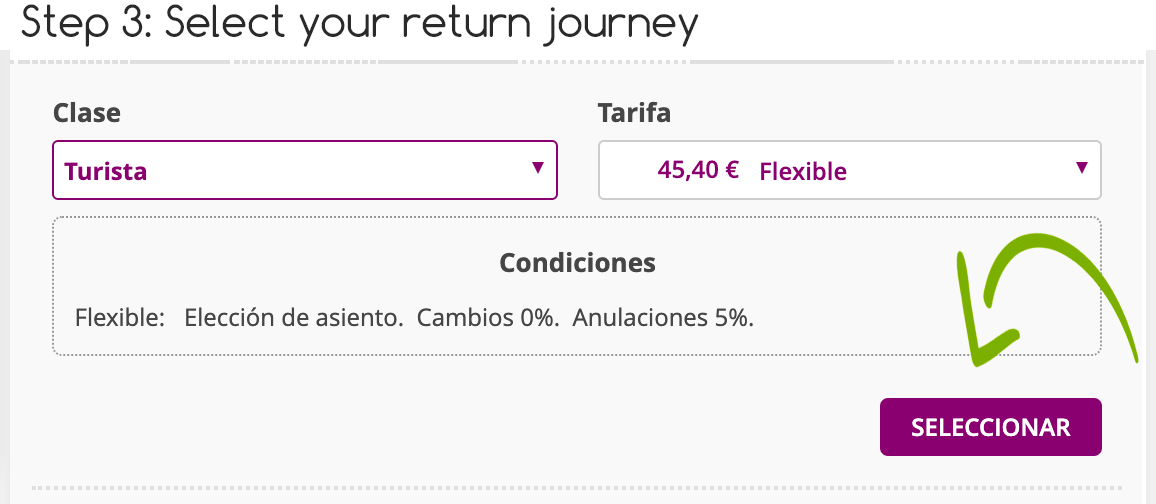 Step 4: Select Solicitud Atendo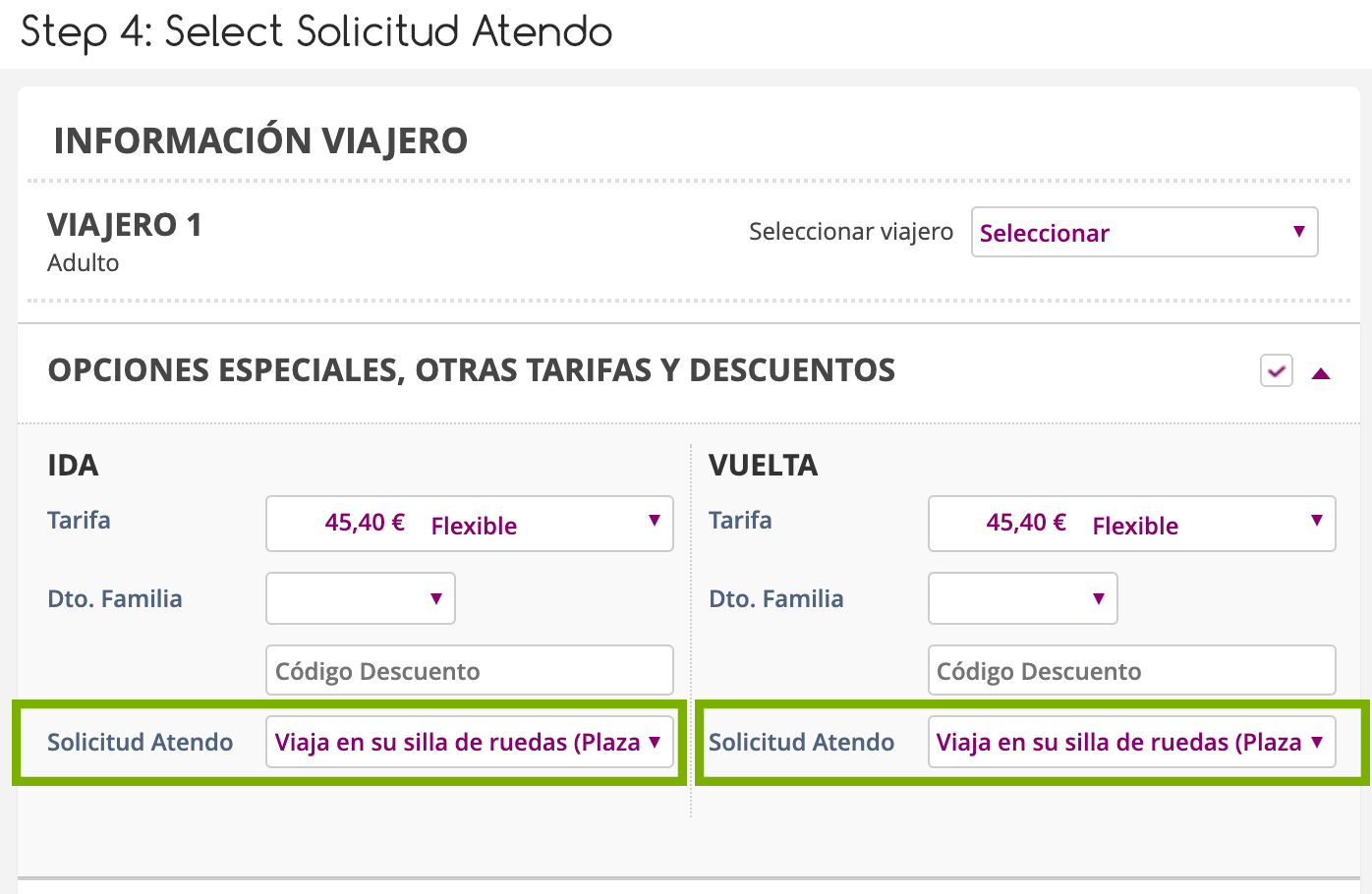 Let Disabled Accessible Travel take care of it
If you do not want to make the purchase yourself or if you find difficulties, we are collaborating with a local Spanish party to make the purchase of train tickets with an H-seating hassle free. In order to check availability and costs, we need the following information:
Full names of all passengers
Origin and destination point
Preferred travel dates + times
Total number of tickets
What kind of assistance you need
Please note, this does mean that there is a surcharge of € 6.05 per ticket for the agency, plus our intermediary fee to cover for time spent. The tickets will be emailed to you prior to departure in pdf. You will need to print these and take with you to show to the staff. The tickets are not reserved, these need to be bought and are non-refundable.
Hope this helps to discover the beauty of Spain by train!