Disabled Accessible Travel Expands Accessibility Services with Launch of Mobile App 'accessaloo'
Accessible toilet finder with innovative visual impressions, ratings, and reviews by users worldwide. 
BARCELONA, Spain – September 26, 2019, – Disabled Accessible Travel, Europe's leading accessible travel agent, announced the launch of their first mobile app, 'accessaloo,'  available for iOS and Android. This user-generated content application helps users to find, add, and share accessible toilets on the go.
Managing Director Mirjam Versteegh explains that the new app offers the solution to returning questions from clients about the presence of accessible toilets. "Not knowing where to find accessible toilets has a huge impact on the overall experience of our clients and travelers."
About the application 
'accessaloo' helps users to find their ideal accessible toilet by showing facilities and visuals for every toilet on the map. Additionally, users can use ratings and reviews from other users to decide if the accessible bathroom meets their individual needs and requirements. After finding the bathroom of their choice, users can navigate to it via the map. Once they have finished their visit, users can update the restroom with new photos, rate it, and write a valuable review for future visitors.
"No disability is the same, and therefore personal needs differ," says Mirjam Versteegh, creator of 'accessaloo'.  "There is no such thing as a 'one size fits all' when it comes to accessible toilets. Moreover, many so proclaimed accessible toilets do not comply with the ADA guidelines or comparable bodies. Thus, we believe that visuals, ratings, and reviews by users, ultimately the experts, are the most valuable features of the app."
With the app, users can also share toilets with their friends and family, and save their favorite accessible toilets for later.
The accessaloo app features:
An innovative experience: find, add, share and navigate to accessible toilets on the go.
Unique visual insights: no disability is the same, and therefore personal needs differ. This feature gives users a 360-degree look at what to expect from any accessible toilet.
Valuable ratings & reviews: see the users as experts. Their experience and opinion can act as an important barometer for future visitors.
Personal fit: save favorite accessible toilets for later or share them with your friends and family.
Together with its users, 'accessaloo' wants to create a more accessible world.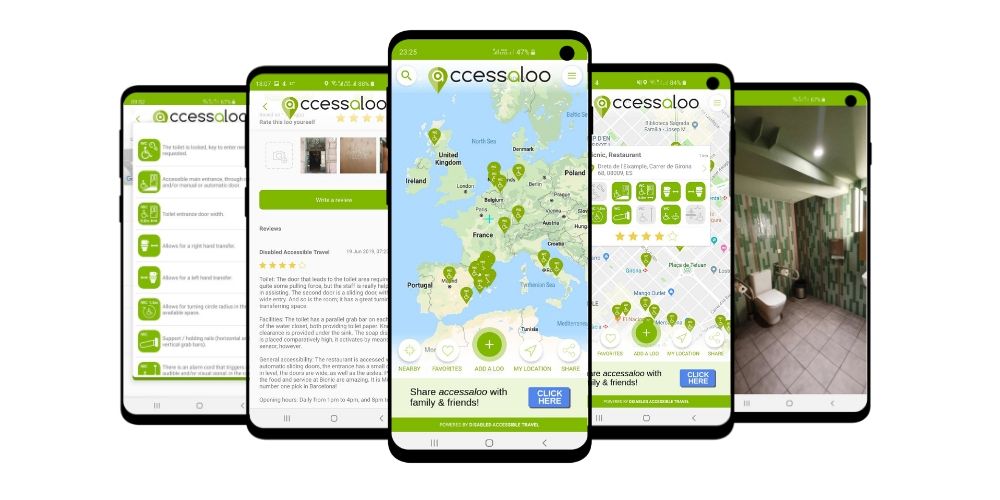 Full details about the app can be found at www.accessaloo.com. Or get started, download 'accessaloo' on the App Store or get it on Google Play, and share your favorite accessible toilets with the world.