Wheelchair Accessible Activities in Barcelona
It is no secret that Barcelona is a wheelchair accessible paradise. A lot of attractions and public transport are accessible to people in a wheelchair or people with other disabilities. Every single year, Barcelona attracts crowds from all over the world. You probably already know one or two things about this beautiful metropolitan. But Barcelona has to offer so much more. In this blog, you will find an overview of the ultimate top 7 wheelchair accessible activities in Barcelona.
1. Sagrada Familia
When you think of Barcelona, there is probably one thing that pops into everyone's mind. The accessible Sagrada Familia. Gaudí's masterpiece is one of the most visited places in the city. And this is for a good reason. Both the inside and outside of this cathedral is worth a visit. If you buy a ticket, then you contribute to the construction because it is still not finished yet. Can you imagine that it will become even more beautiful?
What to see
You would need an army of eyes to see everything at once. That is the beauty of this building, you could visit it ten times, and you will still find things you have not noticed before. This masterpiece is most certainly not your average church, as Gaudí inspired the design of the building on the elements of nature.
Upon entering, you are amazed by the beautiful stained glass windows. There is a crypt, an altar, various chapels, the apse, the claustrum, and two vestibules on either side. From the outside, you can see the towers.
Accessibility
People with a disability of more than 65% can visit the Sagrada Família free of charge. You just have to show your medical documentation as proof. You can bring one companion for free as well.
The accessible entrance of the Sagrada is at the back, in the street called Carrer Sardenya. Once you are there, a staff member will guide you through the turnstiles to get you inside. The interior has a smooth and flat floor. There is also enough space to move around despite other visitors. Sadly, the towers are not accessible for wheelchair users. But do not worry, there is enough to see on the ground floor. You can admire its beauty and numerous colors with your two wheels on the ground.
When you finished strolling around through the church, you can access the museum with a ramp. There you can discover everything you ever wanted to know about Gaudí, his art, and the Sagrada Familía.
If you follow the signs, you will find the accessible bathroom. Just one thing to mention, the doors are a bit narrow. This means that some wheelchairs might not fit through. If you ask the staff, they will open up the door for you.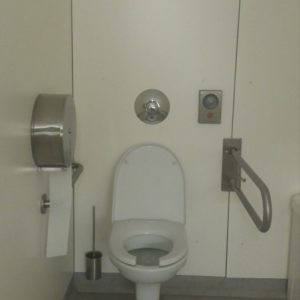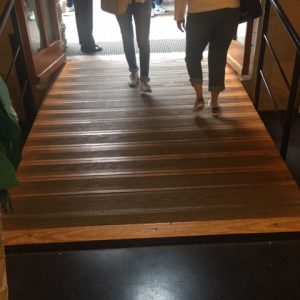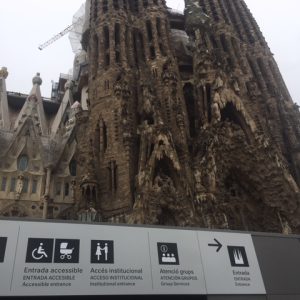 Find out more!
Would you like to know more about the Sagrada Familía, its accessibility, why it is such an awe-inspiring church, ways to get there? Check out our dedicated blog where you read everything you need to know if you want to visit the cathedral as a companion, or a wheelchair user.
2. Accessible Beaches
Next up on these Wheelchair Accessible Activities in Barcelona list, are the beaches. You may or may not know, but Barcelona has a lot of accessible beaches. So besides the many accessible attractions, you can also go for a relaxing swim! Barcelona has quite a hot climate in the summer, so this is perfect for cooling down for a bit and enjoy the ocean. In this section, we give you a detailed overview of a couple of beaches and their facilities.
Nova Icària Beach
This is one of the more popular beaches along the coastline of Barcelona. You can go there for comfortable beach wheelchairs, water crutches, volunteer assistance, some accessible paths that lead to the beach, and facilities such as accessible showers, toilets, and a hoist.
Barceloneta Beach
This is the most famous beach in the city and looks out over the iconic W-hotel. This beach also offers you assisted bathing services that allow you to take a dip in the sea. This service is completely free, but check the opening hours below for availability. Other than this service, Barceloneta also offers a hoist, and additional available equipment, such as floating wheelchairs and water crutches.
Fòrum Bathing Area
This is a domain where you can bathe, but there is no sand. It does, however, have a seawater swimming pool. The area also caters to the needs of a disabled visitor. There are an assisted bathing service and accessible equipment, just like on the previous beaches. So if you are not a big fan of sand, this could be the ideal spot for you! On another note, there are fewer people so that you can enjoy the sun without many crowds.
Opening hours Nova Icària, Barceloneta and Fòrum
It is important to plan your trip to the beach because the assisted bathing service is not available all year-round. Additionally, the volunteers are not there the whole day during the summer. These are the opening hours throughout high-season:
June: weekends and public holidays
July, August: daily
September, first half: daily
September, second half: weekends
Times: From 11:00 to 14:00, and 16:00 to 19:00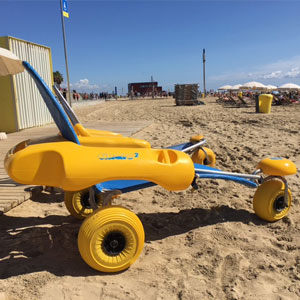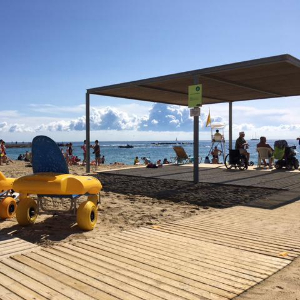 Bogatell Beach
This beach offers reserved parking spots for people with reduced mobility when arriving with a car or taxi. Additionally, there is a wooden path that leads to the sea for easy access. The beach has side platforms for wheelchairs as well, and there is a zone marked in the water for the disabled, so it is calm to bathe. Furthermore, there are accessible changing rooms and adapted toilets available. And last but not least, you can rent umbrellas, long chairs, and the shower cabins have seats.
Sant Sebastià Beach
It is situated just in front of the famous W-Hotel, which means that it is easily accessible from the city center. The facilities consist of accessible wooden paths towards the sea, side platforms for wheelchairs, and shadow areas. Moreover, there are accessible toilets present and an adapted changing room with a shower and a shower seat.
Opening hours Bogatell and Sant Sebastià Beach
Bogatell and Sant Sebastià beach do not provide the extra accompanied bathing service. However, it is fully accessible for wheelchair users. Because of this, we give you the regular opening hours of the public facilities.
High season
From 26 May – 16 September: Public opening times range from 10.30 am to 7.30 pm. The public toilets are open from 10.30 am to 9 pm. The lifeguard and first-aid services are there from 10.30 am to 6.30 pm.
Low season
The rest of the year: Only the Bogatell public toilets are open.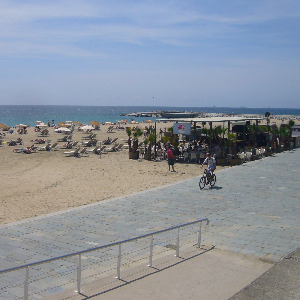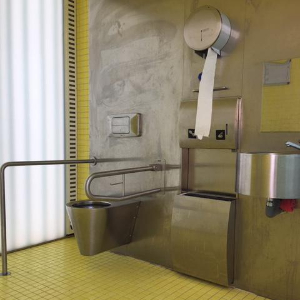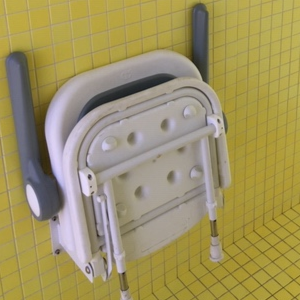 More information
Are you not finding enough accessibility information in this blog about the beaches in Barcelona? Check out this piece that we wrote completely about the beaches. Read about the timings, when the red cross service is available, and more.
3. Poble Espanyol
Spain is a rife and diverse country. If you visit one city, do not think you have seen it all. If you are short on time and you are not able to visit the whole county in one go, then this open-air attraction might be something for you. So what is Poble Espanyol exactly, and where can you find it?
You can find it on the top of the Montjuïc hill in Barcelona. The name Poble Espanyol signifies a "small village." So in this village, you find replicas of the most astonishing buildings, artworks, streets, and squares from many different Spanish regions. When wandering through the streets, you encounter information displays with more details about the region, their traditions, and their background. The goal is to let you get a taste of real Spain. It was initially built for the World Exhibition in 1929. Because of its success and many visitors, the Spanish government decided to keep it.
What to see and do
Throughout the village, you find little shops from artisans and craftsmen who display their work. It is the ideal spot to have a gift shopping spree. You also get the chance to follow a craft workshop. Imagine making your own jewelry, weaving a basket, making stained glass, or learn how to paint. Creating souvenirs yourself sounds like a lot of creative fun. If you bring your children, they will enjoy themselves like never before. The town is completely traffic-free, so you do not have to worry about them running around freely, and there is a new children's playground with slides and more fun equipment.
Another thing you can do is witness a traditional Flamenco show. See the beautiful Spanish women dance in their colorful dresses to the Arabic and rhythmic music. And what better way to end your evening than with some delicious food. Tablao de Carmen offers four different menu options to enjoy during the performance.
In conclusion, Poble Espanyol is an attraction for the whole family. A big part of the Wheelchair Accessible Activities in Barcelona is here and there is something for everyone.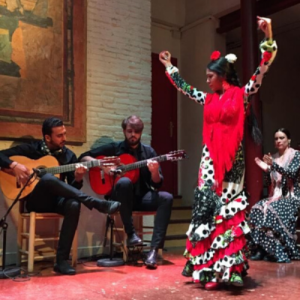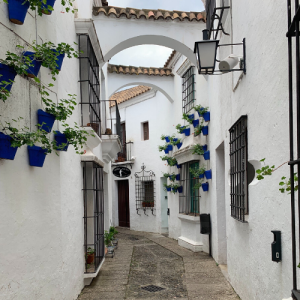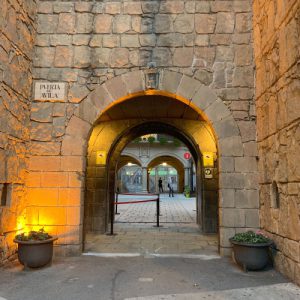 Accessibility
If you want to enjoy a Flamenco show at Tablao de Carmen, you should reserve your seat in advance and let them know that you are coming with a wheelchair. That way, they can make sure that there is enough space for you. The entrance of the restaurant has a small step, but when you arrive, the friendly staff places a ramp for you. They do the same on the inside. Everything from there is flat, and you are guaranteed the best seats near the stage. There are also wheelchair-accessible toilets present in the restaurant.
Because Poble Espanyol dates back to 1929, there are some architectural barriers for people with disabilities. During the years Poble Espanyol is open to the public, the Spanish government invested a lot into making the whole area accessible for wheelchair users. You enter the sight through the main entrance and then turn left to start exploring. Moreover, there is an accessible route, especially for wheelchair users. You can find a map upon entering.
If you are looking for accessible bars and restaurants, there are some across from the main entrance. When you go deeper into the parc, be aware that accessibility is more limited. And when you need an accessible toilet, search for the Plaza Mayor. There you will find several adapted bathrooms.
Would you like to know more about the accessible bathrooms in Poble Espanyol and see for yourself how accessible they are? Find more detailed information about the toilets, the facilities, and the exact location with our newest app, accessaloo. Download accessaloo in the Appstore or get it in the Google Play store.
To get more detailed information about the parc, the opening hours, tickets and how to get there, click here.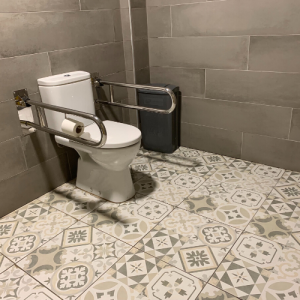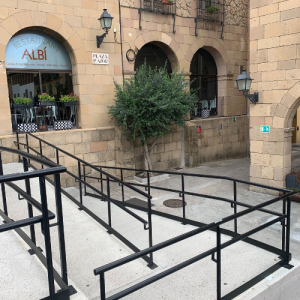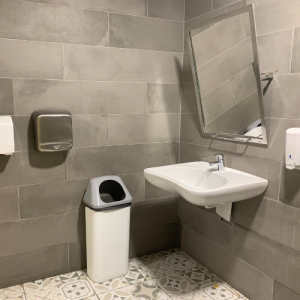 Want to know more?
Poble Espanyol has so much to offer that we could not put it all in this post. Would you like to read more about this fantastic little village inside the big city of Barcelona? Read this blog and find out more about the village itself, Tablao de Carmen, and how to get there to experience a wonderful flamenco show yourself.
4. Casa Vicens
Amongst the many masterpieces created by Gaudí in Barcelona, there is the hidden gem of Casa Vicens. Between all the typical houses, suddenly, the casa is there in all its glory. Gaudí has many of his works listed on the Unesco World Heritage List, and this is one of them. So, what is so special about this house?
For starters, it was his first. And firsts are always special. He built it for the Vicens family as a summer residence, and the house shows the beginning of his signature style: colorful and extraordinary. Gaudí liked the elements and shapes of nature to draw inspiration from, but in Casa Vicens, we see the more geometrical side of his artwork. The casa was also one of the first buildings to kickstart the Modernisme movement in Catalonia and all of Europe.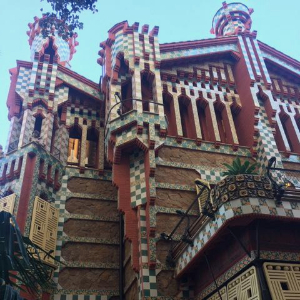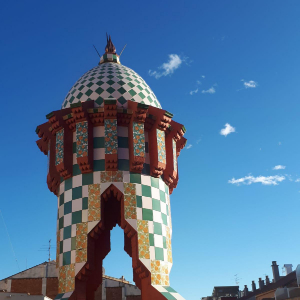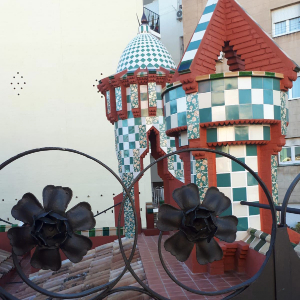 What to see
No one lives in this house anymore, and it has been turned into a museum. The ground floor is the welcome hall where the visitors first enter. The first and second floors are used to showcase the permanent collection which focusses on the building. Some temporary exhibits and activities make up the museum project. But most of all, just look around because the main thing to see here is the beautifully decorated casa itself.
There is a bookshop, located in the basement and at the end of the garden is the Hofmann Café.
Accessibility
Casa Vicens offers an accessibility program. The building has special routes that are adapted to accommodate better to the wishes and needs of disabled visitors.
The main entrance is not accessible for wheelchair users because this has steps. You have to go around the door, and there you find staff who helps you enter via a step-free doorway. The rest of Casa Vicens is a 100% wheelchair friendly. There is even a brand new broadened elevator that brings you to every level, including the rooftop.
The surfaces are all flat and smooth, so it is easy to roll on. The doorways to the rooms are step-free, and you find the accessible bathroom in the basement. It is a big room with changing facilities.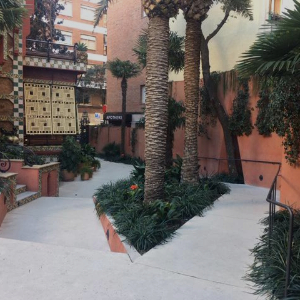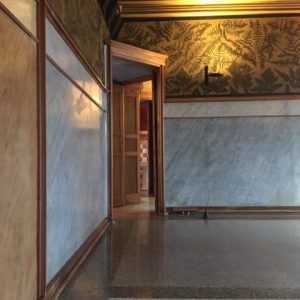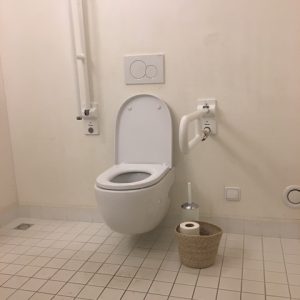 Explore more about Casa Vicens
Casa Vicens is a wonderful place and a must-visit when going to Barcelona. Would you like to go there? Click the button below to discover more about this stunning house, for who it was built, and more.
5. Accessible restaurants
The Spanish culture consists of traditional dance, reggaeton music, sun, beach, a lot of cultures and famous artists, etc. Now, what are we still missing? That is right: FOOD. If there is one thing that you cannot miss out on during your trip to Spain, it is tasting the world-famous tapas! You can find it in almost every restaurant in Spain. So let us explore another one on the list of Wheelchair Accessible Activities in Barcelona!
What is tapas
A tapa or tapas is essentially a small portion of food. Originally it was a little appetizer you got before your main course. Because the Spanish people eat later than the rest of Europe, there is plenty of time to enjoy a light snack before the meal. Because the tapas is so well-loved and famous now, it is very common to consume an entire meal of tapas as your main course. In some places in Spain, most famously in Granada, you get some tapas for free when you order a drink in a bar. By eating the salty snacks, the bar owners hope the customers will order more drinks.
Places to eat in Barcelona
El Nacional
If you are looking for a somewhat fancy place to eat, El Nacional should definitely be on your list! You will find it on the famous shopping street called Passeig de Gracia. Besides being in one of the more elevated neighborhoods of Barcelona, it also has an iconic design. Additionally, El Nacional is a colossal restaurant: the surface is over 2,600 m2 in size and has a capacity of more than 700 guests. There are four separate bars and restaurants, each with their unique menus. It is custom to start your tasty night out with a delicious cocktail or a fancy glass of wine at one of the bars. After that, you make your way to the restaurant of your choice. 
Bicnic
At Bicnic, they cook with the idea of bettering and 'updating' existing dishes and tilt them to a higher level. They love their quality products, and so they strive to make top-quality products that taste amazing. They also attach a lot of value to the origin of the food. It comes from local sources, which makes it fresher, better for the planet, and tastier for their loyal customers. They also love experimenting with new flavors, so be prepared to have a fantastic gustatory adventure when you go there! It is one of Mirjam's favorite restaurants in the city. Her favorite dish? The striped ray!
The Green Spot
We all know the peckish feeling after a fantastic accessible beach day. Then you probably do not want to look too far to go for a bite. Luckily, we found an amazing restaurant close to 'La Barceloneta' beach. It is called The Green Spot, and soon it might be one of your favorites! You might wonder why it is called like that, well you can interpret it quite literally. The restaurant is filled with lots of plants. You could call it a peaceful oasis or some sort of urban jungle. The menu has both vegetarian, vegan, and gluten-free options. So if you have special dietary wishes or you just do not eat meat, then this is the place for you! Also, check out their website for live music performances!
Xaloc
If you want to experience traditional Spanish cuisine, then we recommend that you go to Xaloc. They are experts in making tapas. You find this restaurant next to the Catedral de Barcelona in the Gothic Quarter. In the beginning, it was a charcuterie specializing in authentic Iberian ham. So it is quite understandable they grew to be this incredible tapas place. Their Iberian ham slices are exquisite, and you have to try them when ordering your tapas. We also encourage you to try their patatas bravas, Andalusian-style squid, gazpacho, and Padrón peppers. A place not to miss when visiting Barcelona! 
Mussol Arenas
You find this restaurant
in Las Arenas de Barcelona, next to Plaza d'España on the Montjuic hill. Las Arenas used to be a bullring, but in 2011 it was converted in
to a shopping mall and entertainment center. When you go to the top floor, there are lots of b
ars and restaurants. The thing that makes this so special is that from the top floor, you have a 360º panoramic view over the city. Pretty cool right? Of course, this venue is accessible for wheelchair users, and on top of that, the viewpoint is free of charge. So if you love good food and are not afraid of heights, then this is undoubtedly the place for you! Complementary, you can add a visit to the
magic fountains show at Plaza d'España, which is not far from Las Arenas. 
Casa Paloma
If you are a fan of meat, then this might be the ideal spot for you in Barcelona. They are famous for their high-quality steaks. If you do not like steaks, there are plenty of other options. Even if you are not a fan of meat, you can still go there to enjoy a delicious meal. Barcelona is a seaside town, so it is not surprising that there are always tasty fish on the menu. How about a nice tartar dish? Maybe interesting to know: the restaurant has a small terrace with a couple of tables in front of the restaurant. So if you rather sit outside, that is an option. 
Giorgio
Because everybody loves food from all over the world and not only Spanish food, we also decided to include a non-Spanish restaurant on the list. This Italian restaurant has some of the best pizza's. And who does not love a good pizza? They are prepared for all kinds of customers. The restaurant caters to vegans, vegetarians, and people who have to eat gluten-free can fill their stomachs here. Also, the restaurant is fully accessible to wheelchair users.
Because all these restaurants are wheelchair accessible, that also means that they have an accessible bathroom. You can find all of these and much more on our newest app, accessaloo. Find, add, and share accessible toilets at restaurants, museums, or public locations. We have placed Barcelona on the accessaloo map. See it for yourself! Download accessaloo and help us to create a more accessible world by adding accessible toilets in your city.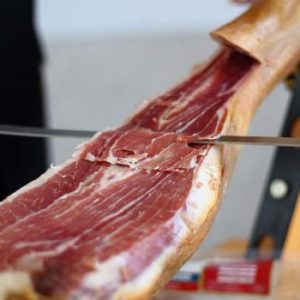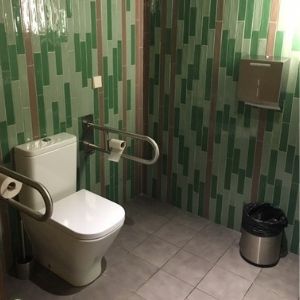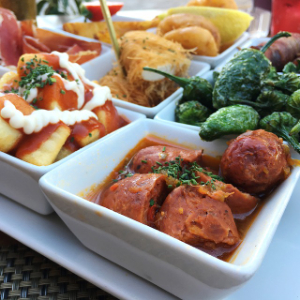 Explore more about these accessible flavor-filled adventures
There is so much more we can tell you about accessible venues in Barcelona that offer a delicious bite to eat. From high end and vegan to basic and grill. Would you like to know for sure how accessible certain places in Barcelona are? We give you elaborate advice on where you need to be and a little extra. Want to know more? Click the button below
6. Telefèric Montjuic
Another one of the Wheelchair Accessible Activities in Barcelona is the Telefèric. That is a cable car that leads up to the beautiful Montjuic hill in Barcelona. There are multiple ways to go up the mountain. The first one is to get up there by yourself, the second one by the metro, and the last (and most fun one) by cable car.
How to get there
As said before, you can just take the bus or metro to get there, but we recommend a trip to the Telefèric! It is the easiest way to get on top of the hill for sure. The cable car is fully accessible, plus you get to see the stunning skyline of Barcelona from the cubicle. If you need any help, the staff are always there to take care of you.
So where do you need to go to hop on this joy-ride? First, you need to go to Avinguda de Miramar 30, which is at the bottom of the Montjuïc hill. You can get there by taxi, bus or metro. Secondly, buy a ticket at the office (online you get a discount) and enjoy the experience!
What to see
There are different stops on this cable car ride. Once you get a ticket, you can get on and off at every level. The first stop is called Parc Montjuïc. Once you get off, there is much to explore. You have the National Art Museum of Catalonia Fundació Miró, Poble Espanyol, and the Barcelona Ethnological Museum.
Roll on aboard again, next stop: Castell. On this stop, you can visit the Castle of Montjuïc, a historic pearl you cannot miss! You can discover much of the cities' history in this large domain.
Lastly, you get to the stop Mirador. Translated into English, this means viewpoint. Here you are amazed by breathtaking views and green areas. You can visit the parks of Mirador de l'Alcalde, the Miramar Gardens, and the Mossèn Costa I Llobera Gardens. The perfect place to go for some peace. On top of the hill, you find the Botanical Gardens, Poble Espanyol, a couple of museums, and much more!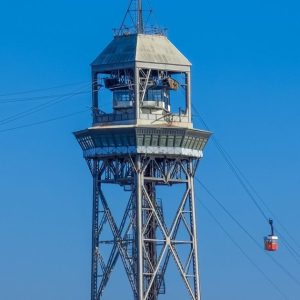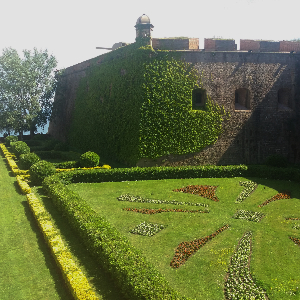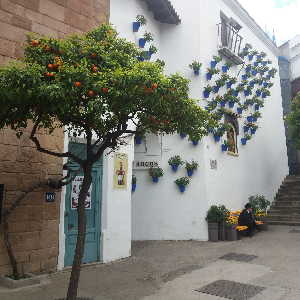 Read more about the Telefèric
Are you a dare-devil and not afraid of heights? Come and check out this cable ride for yourself and see the beautiful views of Barcelona. Click on the button below if you want to know more about this amazing attraction in Barcelona.
7. Magic Fountains
If you are looking for a fun night-time activity, then the Magic Fountains show on the Montjuïc hill might be something for you! What can you expect of these 'Magic' Fountains? Why does it attract over 2.5 million visitors every year? Because it is merely a magical experience! This water, sound, and light show offer people a grand spectacle. Some say the water dances to the music, and others describe it as fireworks of water. In conclusion, if you want to be blown away, you know where you have to be. On top of that: the show is completely free, so you have no excuse not to go at all.
Accessibility
We do recommend you to go there on time because the show attracts a lot of people. The fountains are easily accessible by public transport. We advise you to take the bus or metro to Plaza Espanya, and from there you have to take the street from Plaça d'Espanya towards the Palau Nacional: the Avinguda de la Reina Maria Cristina. When you get to the stairs, you have to make a right, and then you find the wheelchair accessible route in front of the Mies van der Rohe Pavilion (see pictures).
When to visit
It depends on the season when the fountain performs or not. Here you have an overview of the timings. There are always two shows per evening. So if you miss the first one, you can always go and see the second one. But because of the accessibility, it is probably best if you get there half an hour before the first show. As there are probably large crowds, it can be easier to reserve your seat a bit beforehand. For the best visibility guaranteed. Did you know that you can even check what songs they are playing that night? Check them here.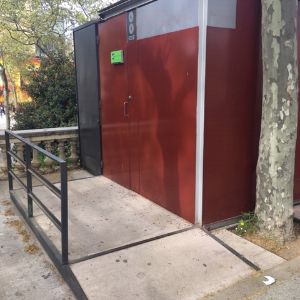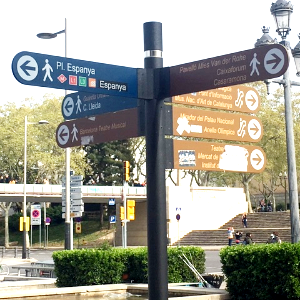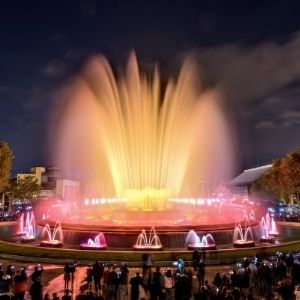 Discover more about the magic fountains
Want to check out this magical fountain in Barcelona? We have dedicated a blog to it that contains all the information you need to get there as a wheelchair user. Prepare yourself before you go by checking how to get there, what numbers they are playing, from what side you have the best view, and more.