Discover more of Barcelona than only the bustling city center. Get a taste of the real Spanish vibe at this 49,000m2 open-air museum on the top of the Monjuïc hill in Barcelona. Poble Espanyol means and is a small village, where you find reproductions of the most impressive buildings, artworks, streets, and squares from many different Spanish regions.
This unique town was built in 1929 for the World Exhibition. The city intended to demolish the Spanish Village after the World Exhibition. However, the village seemed to attract enough visitors to save it. Nowadays, this impressive sight with 177 buildings, many bars, restaurants, and souvenir shops attracts 1.3 million visitors each year.
Arts and crafts
Throughout the village, you find more than thirty artisans and craftsmen who showcase their work, such as glassblowing, basket weaving, ceramics, jewelry, and more souvenirs. Furthermore, you can follow craft workshops, such as a workshop where one makes jewelry, a workshop basket weaving, stained glass, decorative painting, and many more.
In the Poble Espanyol you find the typical white houses of Barrio Andaluz, the cozy streets of Andalusia. As well as the Romanesque monastery of Sant Miquel, a sculpture garden, and imitations of Aragon, Castilla, the Basque Country, Murcia and Catalunya. There is artworks from over 40 different artists. And througout the village, there are information displays with more details about the region, their traditions and background.
Poble Espanyol is a perfect full day attraction for the whole family, there is something for everyone. It is a complete traffic-free area with a new children's leisure area with slides and more play equipment. From the sculpture garden you have an incredible view of the city of Barcelona. Click here for the upcoming activities and plan your visit.
A taste of the Spanish culture is incomplete without a traditional flamenco show. In the heart of the village, you find the famous Tablao de Carmen, in the streets of Córdoba, which is highly recommended to get an upclose look of this typical Spanish tradition.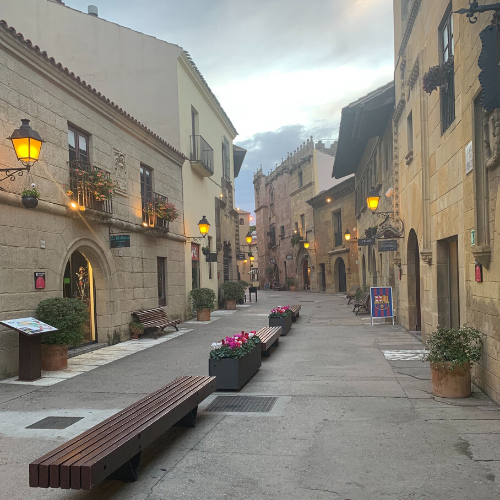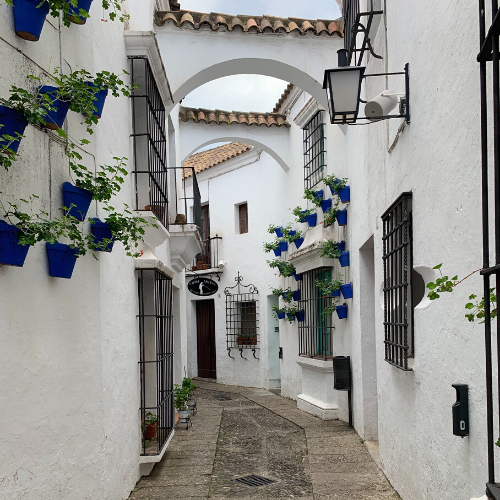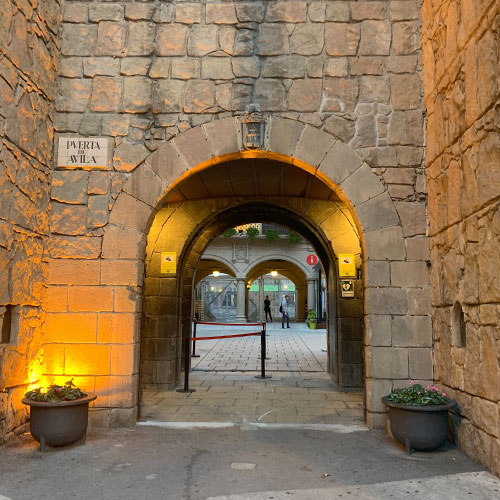 Tablao de Carmen
Who does not know them? The typical swirly Spanish dance outfits. The red dresses with polka dots, flowers in their hair, and the cute red dancing shoes. An outfit in which many flamenco dancers steal the show.
Flamenco is a Spanish music style with a correspondence dance. The music style is characterized by its Arabic sounds, the exuberant musical decorations around a theme, and the steady rhythm within a twelve-tone system. All of this you can enjoy upclose. A traditional flamenco show, and dinner at a very remarkable place.
Carmen Amaya
The flamenco performance at Tablao is a show with four dancers, two singers, and two guitarists. The show is a tribute to the legendary dancer Carmen Amaya. She was one of the best flamenco dancers ever. Her extraordinary dance talent was noticed when she was very young. Her first official performance was when she was six years old, and from that moment on, there followed many more.
What makes this place so special is that during the World Exhibition in Barcelona in 1929, Carmen danced and sang for the Spanish king Alfonso XIII in Poble Espanyol at the age of 15. So at the place where you enjoy your dinner, she performed herself. Since that time, many visitors have admired this typical Spanish show.
There are four different menu options. They offer the Flamenco & drink, this show costs €45.00, or you can choose for the Flamenco Tapas dinner, with various typical small Spanish dishes composed by the chef, this menu is €63.00. Furthermore, you can have the Carmen Flamenco dinner, which consists of more intricate dishes, based on traditional Spanish food, this dinner costs €82.00. And lastly, there is a Star evening menu, for the most demanding tastes, combining the best dishes with the most harmonious wines for €154.00.
To make sure there are enough tables available, it is vital to reserve your seat in advance and let them know that you are coming with a wheelchair user.
Accessibility Tablao
At the entrance of the restaurant is a small step. However, when you arrive, the staff places a ramp at the entrance. Inside there is another small step, where they also place a ramp to allow access. The show area is entirely flat, and the seating for the wheelchair users are near the stage. Therefore, the best view guaranteed. In addition, the venue has wheelchair-accessible toilets.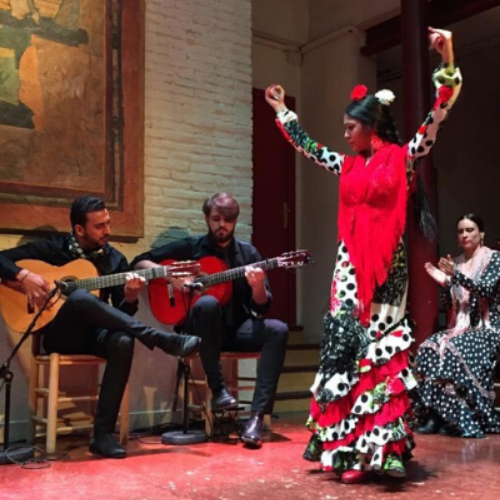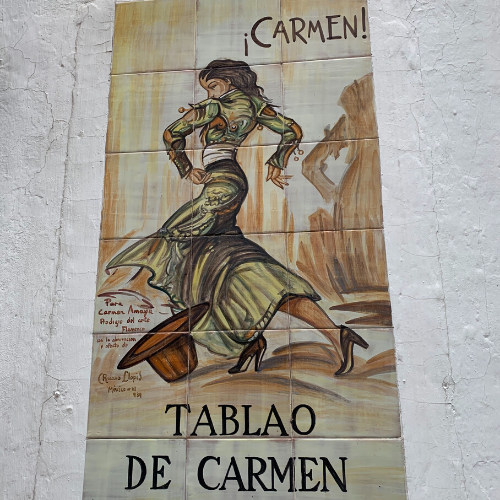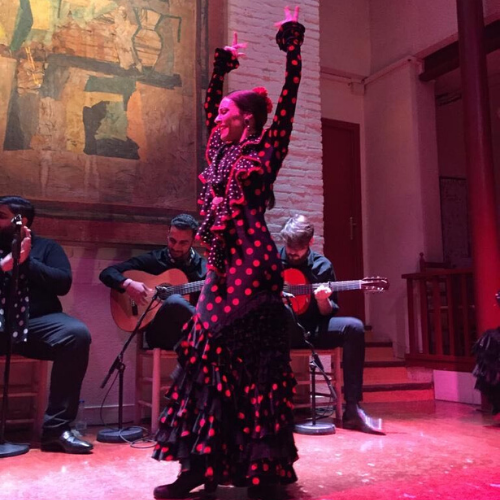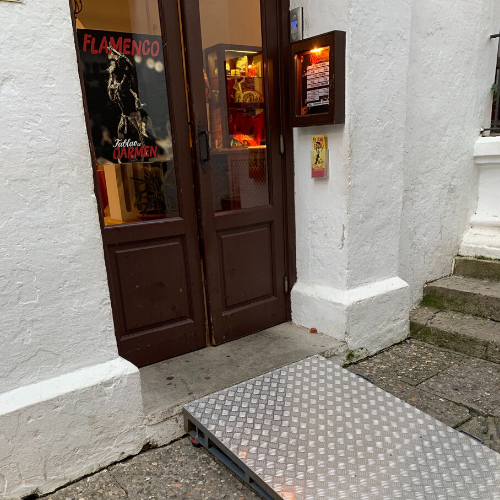 Accessibility Poble Espanyol
The Poble Espanyol was built in 1929, and therefore the village has some architectural barriers for people with disabilities. However, most areas have been made fully wheelchair accessible. There are two entrances of which the main one is suitable for wheelchair users. This entrance is flat with some mild cobbles. Once inside, you turn left to follow the accessible route which directs you to the various reproductions of the different Spanish regions.
There are various bars and restaurants right across the main entrance, accessible by means of a large ramp. In the center of the village there are some small bars, however here the accessibility is more limited.
There are various wheelchair accessible bathrooms at Plaza Mayor. Find more detailed information about the toilets, the facilities and the exact location with our newest app, accessaloo. Download accessaloo in the Appstore or get it in Google Play.
How to get there?
El Poble Espanyol is located on the famous mountain Montjuïc, right next to Plaza España. To get to the village, you can take public transport. The bus lines 13, 23, and 150 all go to the bus stop right at Poble Espanyol, and are fully wheelchair accessible. When you prefer to take the metro, your stop is at station Plaza d'España. To learn more about the accessibility of the subway in Barcelona, click here. From your stop at Plaza d'España, it is about 20 minutes' (st)roll to the main entrance of the village. Keep in mind that the road towards the town is pretty steep.
Furthermore, you can reserve an adapted taxi. Contact us for more information and details.
The address of the village is Av Francesc Ferrer i Guardia, 13 08038 Barcelona, Spain.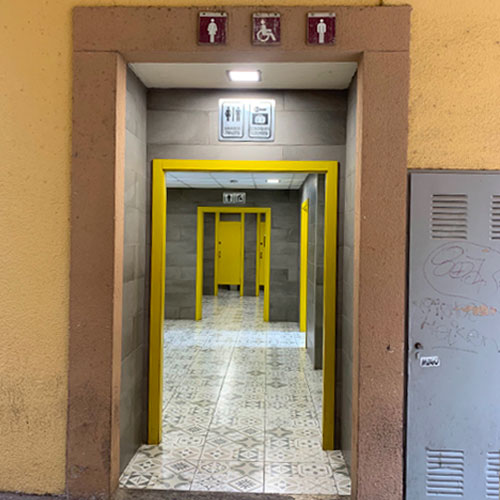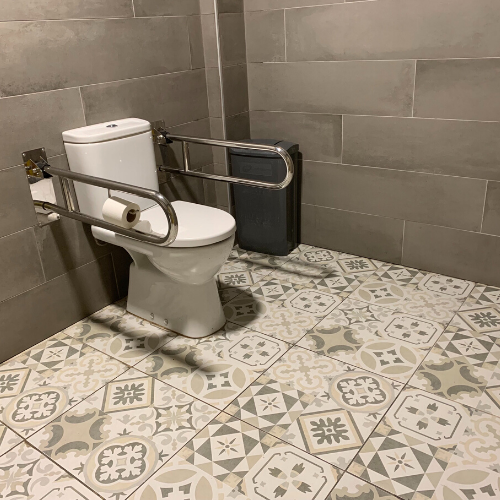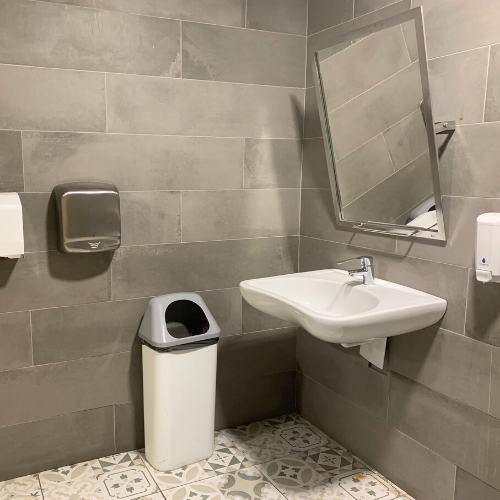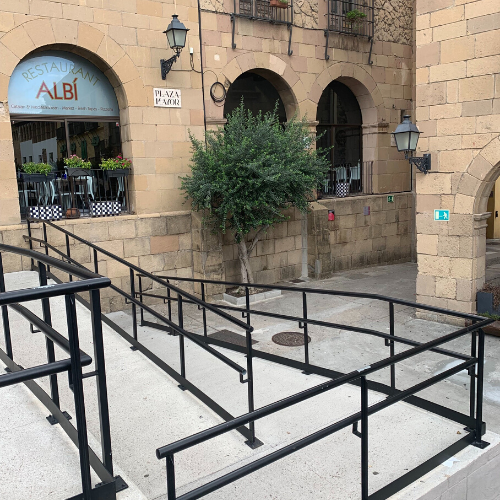 Ticket information
Tickets for adults are €12,60, for students €10,50, for seniors (65+) €9,00, for children (4-12) €6,30 and children under four years can go in for free. Upon showing your disability card at the entrance, you receive a discount of 30% or more, and visitors with a wheelchair have free access to the village.
If you already have a ticket for the flamenco show at Tablao de Carmen, this includes free access to the whole village.
Poble Espanyol is open from Monday till Sunday
Monday: 09.00 – 20.00
Tuesday: 09.00 -00.00
Wednesday: 09.00 – 00.00
Thursday: 09.00 – 00.00
Friday: 09.00 – 03.00
Saturday: 09.00 -04.00
Sunday: 09.00 – 00.00
Notice: from January 13th to February 6th, the village is open from Monday to Thursday from 9 am to 8 pm.
Moreover, workshops and souvenir shops operate during different hours, in Winter they are open from 10 am to 6 pm, in Summer from 10 am to 8 pm and in Spring and Autumn from 10 am to 7 pm.