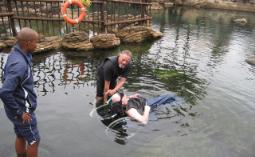 "One of my 'bucket list' trips was to do an African Safari but I really didn't think this would be possible for us as my husband is paraplegic.
We were both very excited after seeing accessible safaris featured on Facebook. We had used Disabled Accessible Travel (DAT) in the past so decided to contact them again.
This was a wise decision as they had a contact in South Africa, who put together an itinerary for us which included a meet and greet, our accommodation, breakfasts, game drives, other animal-related activities including interactions and several other African experiences and transportation to the airport when leaving. We only had to deal with booking flights.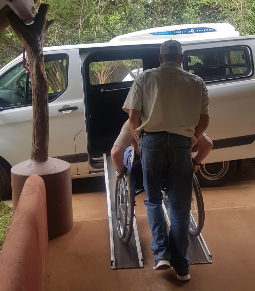 This vacation was not cheap, but it was excellent value for money. We had our own very experienced guide, who both knew all about the animals, location, and customs plus was very aware of the problems faced by someone confined to a wheelchair. Dave's sense of fun and his humor was a huge part of our experience. Our transportation was an air-conditioned van which was very comfortable.
Our accommodations throughout the trip were very good. 4 very different types all of which were very wheelchair friendly plus were more than ready to take feedback from the consumer. Breakfasts were incredible (didn't really need to eat lunch) and all the restaurants Dave recommended fed us well!
We saw a total of 24 different animal species often and up very close. Being close enough to a huge elephant that we could have touched him was an awe-inspiring experience. We encounter 4 of the Big 5 (no leopard), but made up for that by going on a night Hippo hunt and seeing a hippo on someone's front lawn!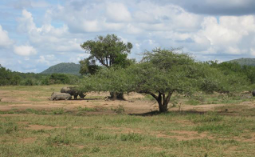 Saying goodbye to Dave was hard, we had made a good friend.
Overall the trip was extremely well planned allowing for a couple of 'rest days'. We had absolutely no problems whilst in Africa. We would both highly recommend all parties involved to any person(s) wanting to have a rewarding time in this beautiful country."
Accessible Safari Africa, April 2019