PRIVATE GUIDED WHEELCHAIR ACCESSIBLE HERCULANEUM TOUR – APPROX. 2 HOURS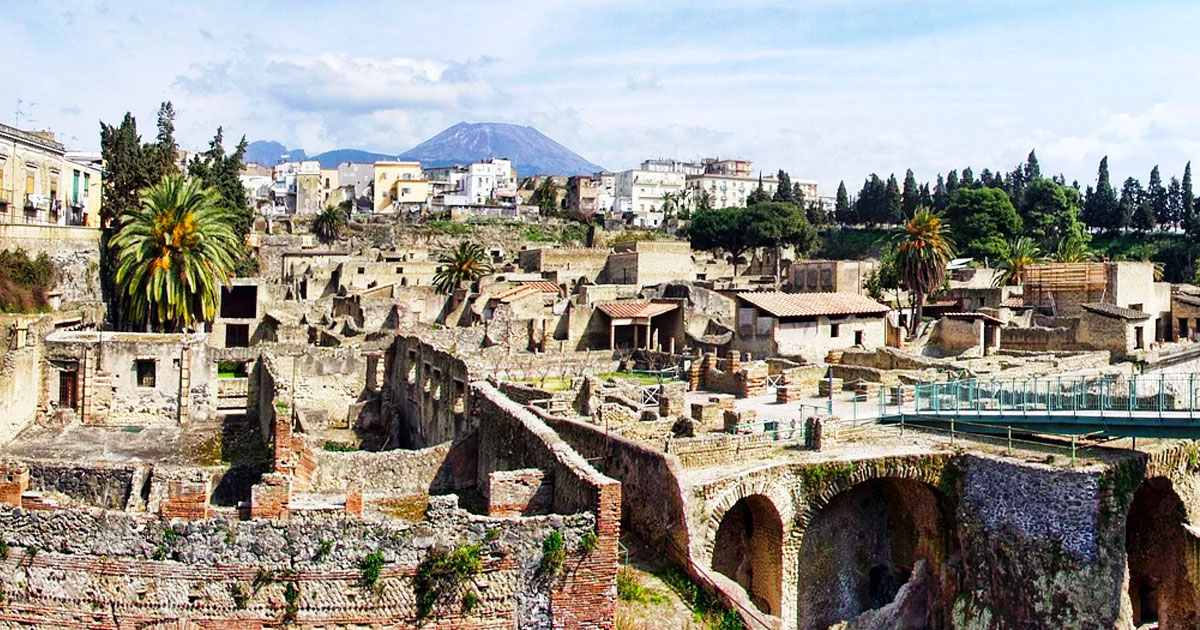 Accessibility information
Use of adapted vehicle for transportation
Few cobblestones
Uses sidewalk ramps
Partially step-free route
Want to know more about the accessibility of Herculaneum? click here
What is inculded?
Private tour
Tour duration: 2 hours
English speaking guide
Pick up at your accommodation, airport or cruise port
What is not included?
Tips
Food and drinks
Entrances, unless stated
Additional tour options
About this wheelchair accessible Herculaneum tour
Your driver-guide will meet you at the cruise port, airport or accommodation with private adapted transport. And he will be waiting for you with a sign with your name on it. He helps you get in the adapted vehicle and when everyone is sitting comfortably, you will head to Herculaneum for your 2 hours private guided tour.
When Vesuvius erupted in 79 AD, more was wiped off the map than just the famous Pompeii. On the other side of Mount Vesuvius, about 17 km from Pompeii, there was Herculaneum. A small town that probably had about 5,000 residents. This town was covered by a thick layer of lava and mud, while Pompeii endured a crushing layer of lava and ash.
Accessibility Herculaneum
This mud made that Herculaneum got much better preserved than its big brother Pompeii. When you enter the site you can still see the painted walls, remains of streets and houses. And stores with amphoras, that are still waiting for customers after 2000 years. All fully intact.
Herculaneum is mostly step-free. There is an accessible path above the sight that gives a good view of this ancient buried town. From there you can go down via a big ramp. Below, the streets, sidewalks, and buildings are mostly step-free. However, some areas are not accessible due to the many steps. You can avoid these by staying on the main roads. When you look up you will see Mount Vesuvius emerge in the background.
Want to know more about how accessible Herculaneum really is? Click here to read all about it, to see pictures, and decide for yourself!
About Herculaneum
Herculaneum is about 10 times smaller than Pompeii and is much better preserved. Because of the size, it is also easier to explore in less time. The reason why Herculaneum is so well preserved is because of the way it got destroyed. Herculaneum was covered by a thick layer of mud, that petrified over time and enclosed everything in a vacuum. Pompeii was covered by a more "airy" layer of ash and pumice that was not airtight. The thick mud layer had a very special consequence for the legacy of the city. Archaeologists have found remains of cheese, bread, fruit, clothing. All in charred form though. Nothing can survive a mud and lava flood of 500-550°c.
What people say
Cheryl H, September 2019

Rome, florence, rome, accommodation, tours en transfers

"…Thank you again Mirjam for your incredible professionalism, attention to detail, partnering with great tour guides. You made our holiday!" Read more

Julie Lynne A. July 2019

Rome - Hotel, Tours, and Transfers

"…She knew all the routes for ramps/elevators/ accessible spaces and the best views…" Read more

Monica B. June 2019

Naples, Rome, and Palma. Tours and transfers.

"Mirjam Versteegh handled our excursions in Mallorca, Rome, and Naples and WOW I was super impressed…" Read more