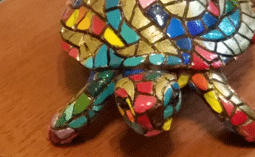 "I recently visited Barcelona with the assistance of Mirjam Versteegh. She helped my parents and I schedule two fantastic tours! We stayed at an apartment complex for the disabled named MIC Sant Jordi. it is right outside an accessible Subway and bus stop, and has several nearby cafés. The subway is only 10 minutes into the heart of the city where I connected with the train that took me to the beach town of Badalona, and another day to Antoni Gaudi's town of Colonía Guell. My two favorite sites—which Mirjam helped me get a tour of—were Gaudi's awe-inspiring Sagrada Familia and the detailed, historic architecture of the gothic quarter. Thanks Disabled Access Travel!!"
Chris R. – USA
Barcelona. Tours and Transfers, October 2018
By Chris, who self-published 5 books, currently working on a book of fiction and of memoir.
"The turtle, being an inanimate object, but it comes to life by traveling…."
Viva Tortuga
I am a turtle
Moving through Barcelona as fast as its pace of life.
I swam across the Mediterranean and arrived on the shores of Badalona,
Saw café patrons, a topless beachgoer, kids playing beneath the pier.
I endeavored the hilly streets of Colonia Güell, fancifully flanked by brick houses,
To find a stained glass window in Gaudi's ethereal structure matching my multi-colored shell.
On a sunny day at Camp Nou, spirits of balletic athletes inspire century-old
Catalan passion in the cheers of those donning blue and maroon stripes.
That live-wire energy bustles by chic stores and fountains on Passeig de Gracià,
Or along the rows of vendors and festivities on the waterfront of La Barceloneta.
I felt infinitesimal in Sagrada Familia, gazing skyward at mist and sunset-tinted columns
Branching out like trees, the way my eyes ascended passing through the Arc de Triomf.
I rode a van around Plaça d'Espanya's giant statue, saw Las Arenas, where bulls once fought,
And glimpsed between spires, down an avenue at a building with a dome and gold hue.
Then I was delivered through shadowy, arms-length wide alleys in the Gothic Quarter to a store
Where I listen to voices with Iberian lilts echo off walls, smell aromas from a nearby chocolatier,
Accrue the wisdom only a foreign location can provide.