WHEELCHAIR ACCESSIBLE HUNGARY
Bordered by diverse countries (Austria, Serbia, Ukraine, Slovakia, Slovenia and Romania) modern day Hungary reflects the many diverse changes of rule in its long history (such as when Hungary and Austria were a state). Our guests will have the opportunity to experience the best of the historical past and the developing modern Hungary.
Hungary's landscape is defined by relatively low mountains to the north-west and the Great Plain to the east. Lakes and rivers are also spread all over the country including Balaton the largest lake in Central Europe.
Hungary is one of the oldest countries in Central Europe and has retained many elements of its past including gastronomy as present day Hungarian cuisine developed largely during the first half of the 20th century has barely changed. Hungary is also famous for wines from the Olaszrizling to the sweet Tokaj. Hungary offers a rich folk culture with some of the oldest traditions still alive in Europe today.
Accessible wheelchair travelling in Hungary is best arranged well in advance of your intended dates of travel in order to make your travel experience barrier free and that's what we at DAT are here to do for you.
Travel with us on an unforgetable adventure to Hungary.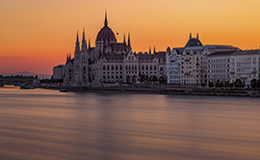 BUDAPEST
Budapest is the political, cultural and commercial heart of Hungary. A city with many facets it distinguishes itself through its youthful atmosphere
READ MORE