WHEELCHAIR ACCESSIBLE CROATIA
Croatia is a country full of historic sights, beautiful beaches, picturesque bays and idyllic towns. There you can find friendly people, a breath-taking scenery, impressive buildings and crystal-clear water. It offers many things to see and to do, that is why it is one of the most popular tourist destinations in the Adriatic. The climate depends on where you are: the coast has an enjoyable Mediterranean climate whilst inland there is a more continental climate.
In Croatia has a very diverse landscape further afield from the coastal area with its National Parks and mountains. In addition to fabulous beaches Croatia offers a cultural richness to enjoy and nowhere more so for the visitor than the Pearl of the Adriatic, Dubrovnik. There one can immerse oneself in the ancient history with a visit to the Old Town, which is a World Heritage Site and many other stunning sites of historical and cultural importance.
Accessible wheelchair travelling in Croatia is best arranged well in advance of your intended dates of travel in order to make your travel experience barrier free and that's what we at DAT are here to do for you.
Travel with us on an unforgetable adventure to Croatia by contacting is for more information and reservations here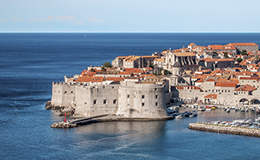 DUBROVNIK
Dubrovnik also called the pearl of the Adriatic or the Croatian Athens because of its cultural importance is one of the most famous destinations in the Adriatic and is a "must" destination for cruise ships.
READ MORE
SPLIT
Split is the product of 17 centuries of building, renovating and remodeling so that the new of Today mixes with the old of Yesterday.