WHEELCHAIR ACCESSIBLE ACHILLEION TOUR – APPROX. 4 HOURS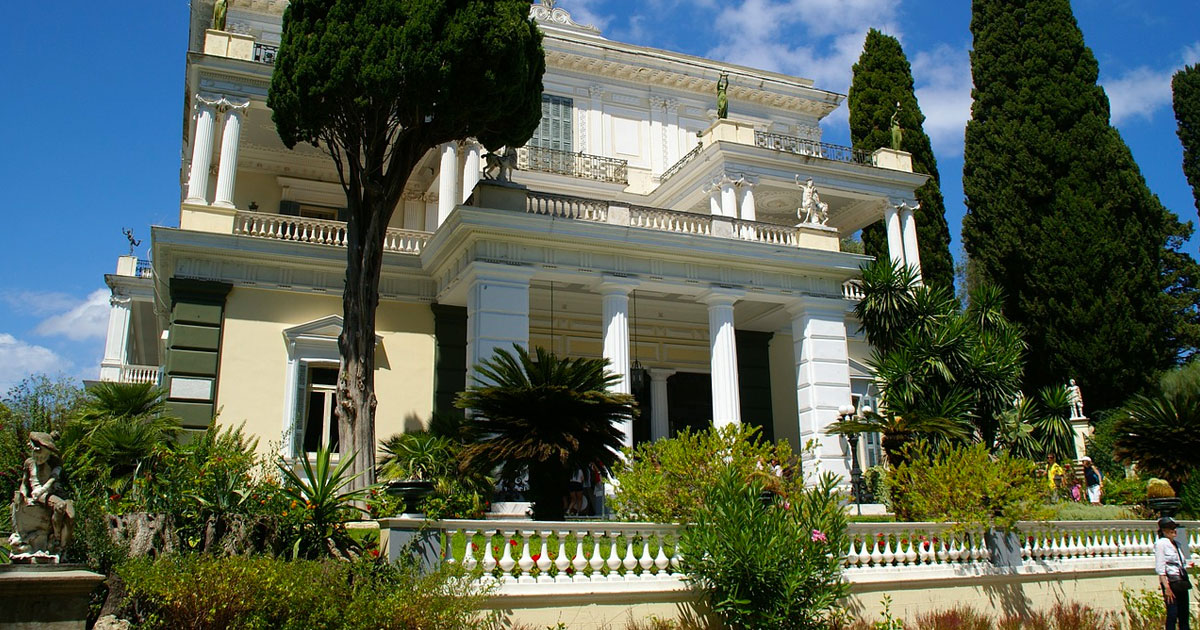 Accessibility Information:
Use of the adapted vehicle for transportation between the sights
There is a gentle slope up from the gates to the main entrance of the Palace
Two steps to the front door; entry by means of a ramp
Gardens not accessible, steps to enter and hilly
What is included?
Private Tour
Tour duration: 4 hours
Officially licensed English-speaking guide
Private adapted vehicle
Tour adjustable to your wishes
Pick up from cruise port
What is not included?
Tips
Food and drinks
Entrances, unless stated
A pick up from your accommodation can be arranged. This may change the tour duration.
About this wheelchair accessible Achilleion tour
Your wheelchair accessible Achilleion tour starts at the cruise port where your English-speaking licensed guide picks you up with adapted transportation. You will find your guide by the sign she is holding with your name on it, and together you head to Achilleion.
The Achilleion
The Achilleion is a palace, located in the mountain village of Gastouri, ten kilometers southwest of the city of Kerkyra. This palace has been the summer residence of two of the most important royals in European history: the Empress of Austria and Hungary Elisabeth, better known as "Sissi" and the Emperor of Germany Wilhelm II.
During the two world wars, it served as headquarters and hospital. The Greek government then rented it out to a German casino company, which restored a lot of the building. They also collected many objects that belonged to or related to the lives of the two imperial owners and brought them back to Achilleion. At that time there was a museum downstairs and a casino upstairs. Now it is owned by the Greek Tourism Organization. Downstairs is the museum, upstairs it has been open to the public since 2015 and this part is no longer a casino.
The empress Elisabeth
Once you arrive, a strange sense of awe overwhelms anyone that gazes over the imposing form of the palace. The palace dominates the area with its presence, residing between the cypress trees and other exotic plants and flowers which surround it. The empress Elisabeth built the palace to escape the tragedies of her life. William II purchased it after her untimely death.
A lot has changed since Sissi built the palace. But what is still there and is a must-see, is the beautiful mural, positioned right at the reception — Marvel at the wall painting where Achilles carries the dead body of Hector.
What people say
Liz H. June 2019

Cork, Dover, Le Havre, Zeebrugge

"…I am traveling with a group of handicapped people and taken some of their tours, but yours are MUCH better…" Read more

Jo N. June 2019

St Petersburg and Tallinn - Tours and Transfers

"We have just returned from a Baltic cruise with port tours organized via Mirjam in St Petersburg and Tallinn…" Read more

Carla R. - June 2019

Rome Shore Excursions

"We had a great trip!!! Every excursion was great, but the day in Rome was the best!! […]" Read more